31
« on: November 12, 2008, 02:31:46 PM »
UPDATE 03-22-09: SOLD OUT! THANK YOU FOR THE GREAT RESPONSE!UPDATE 11-14-08:
Some pics for now, will get to updating the list once people commit (via Paypal) since there will be prices announced at the end of this post -
LionCub bods: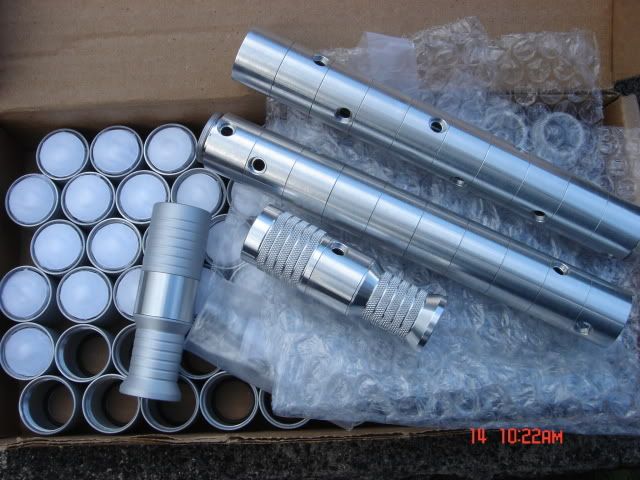 Up Close - only ONE original knurled body (shown on bottom of pic) is available at higher cost
(GONE)
, the other twenty will be as shown at top of pic: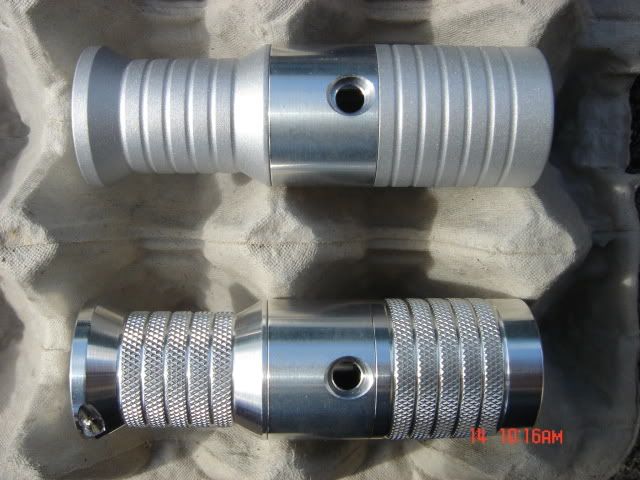 Lo and Behold, we got DragonHeart bods too -- notice that in the top row, the two on the right and on the bottom row the fourth on the right
(GONE)
are *SHINY*. That is how they usually came, but the rest shown here have a matte-finished anodizing. The three *SHINY* ones have NO TRIT SLOTS and will cost a little more, although I would think the matte ones are desirable as well simply for their "tactical-ness" for lack of a better word: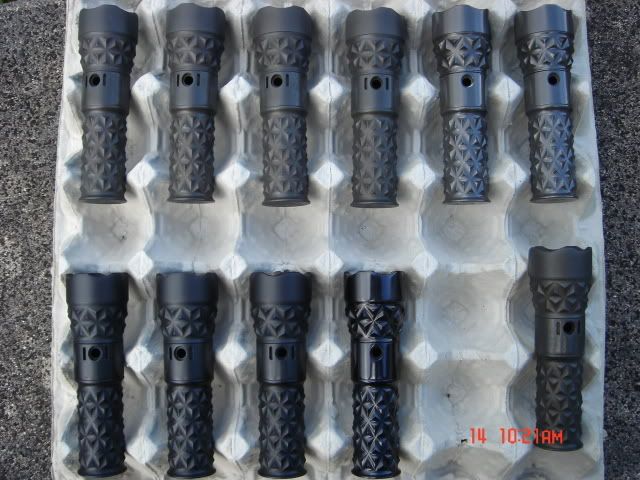 Also note the top row lights are OD Green and the bottom row is Black except for the one on the far right which is a seventh OD Green.
Holy Cow, we still had
STAINLESS
DRAGONHEARTS??? These are COMPLETELY BUILT LIGHTS, and they simply turned up while going through my stuff: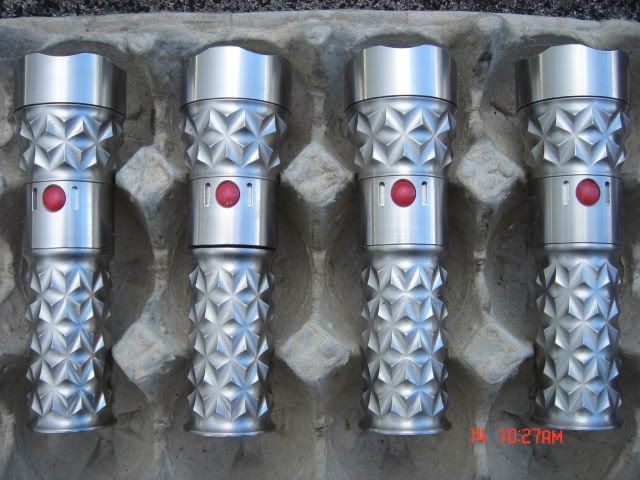 These four remaining Stainless Steel Dragons are
(PRICE EDIT) $260
each plus shipping.
Now as for the selling price of the LionCub Kits, let's consider the componentry cost for each LionCub:
1) I paid $25 per circuit board
2) I paid $20 per McR-20 reflector
3) I paid as high as $14 for each Luxeon star as I always sought out and purchased the best bins available at the time
4) although I bought the dual-side AR-coated UCL lenses in *Bulk* (cool word, eh?), they retail for $7 from Flashlight Lens
5) the goldplated piano wire battery springs retail for $5
6) add another $5 for the o-rings and button covers and the total so far is
$25+$20+$14+$7+$5+$5 = $77 not yet counting the bodies
I am setting the price of each complete LionCub kit at only $99 (and I ASSURE you the bodies alone cost
significantly
more than $22 each!!!), and due to the losses at such a price I will require $5 to cover handling/packaging/shipping (in the U.S., contact me for international destinations as it will be more) plus $3 to cover Paypal fees so for simplicity's sake can we please just keep it to an even $107 delivered per each Cub kit regardless of number ordered, meaning two kits will be $214, etc.
SUCH a deal, I tell ya.
-GONE-
Add $25 if you want the one Cub kit with the last available original LionCub body with the knurling and the lanyard hole in the tail. But be warned, the bezel opening is still the original width (meaning not "opened up" as the rest of them are).
-GONE-
Add $25 for the matte DragonHeart body, or $35 for the shiny (NON-slotted for Tritium vials) DragonHeart body
(BLACK ONE IS GONE)
.
Please Paypal the appropriate amount for your order to mrbulk(at)gmail(dot)com and indicate here when you are done. Please indicate your preferences for
1) which body you are ordering
2) which converter you want, and most importantly
3) your FF log-in name
Packaging and shipping to begin immediately since I don't has ta build'em any more (yee haw!).
Again - you will provide your own wire and solder, this is all that is required to build each of these lights.
So there ya has it...it's Fire Sale time at BulkWare! Thank you all for your kind support over these past five years.
***************************************************************************
All machined from bare aluminum, the bodies will be beadblast-finished heads and tails with semi-shiny (machine finish) aluminum Control Modules. The bodies are already configured and machined to accommodate - and will thus include - LUXEON STARS ONLY (I have thousands and need to get rid of'em, they are all well-binned of course), your choice of converters (Fully Regulated "DragonHeart" style or DirectDiven V.2 "Cub" style), UCL lenses, McR-20 reflectors, o-rings, battery tube springs, etc.
In short, everything needed to build complete LionCubs save for ancillaries such wires, thermal compound, solder and
a soldering iron
(duh) that you yourself supply.
Please let me know here on this thread if you are interested and I'll go about seeing exactly how much in my parts stockpile I still have for however many y'all might want (there will probably be enough for just a couple dozen at most). Might even have some HA3 ano'd OD Green Dragonheart bodies (4-pcs per body) laying around. Like I said I am taking a SERIOUS break from making flashlights because
:
1) there is really nothing technologically brand-new lately to dream up new lights with
2) the overseas guys are catching up (although I feel they are still far behind in areas such as electronic converters of the intuitive-to-use multiple-feature UI variety)
3) I need time to sort out some pressing real-life "lifestyle" issues
4) I need time to do a couple of exotic custom one-offs that I will be selling privately to, uh, private individuals, and finally...
5) there is still that NewFormat light I want to pursue someday. Just not "today" - *SIGH*
So there ya has it - please sound off on this thread and I'll get a nice price worked out for these kits.